CreativeDeveloper
Based in Cotswolds
United Kingdom
About Me
Hey, I'm a developer based in the UK. I have been working as a freelancer for the past two years, and have been working on a variety of different projects learning new parts of the stack and developing my skills. For the most part, I work as a frontend developer, but I have recently fallen in love with backend systems and have been building full-stack applications for clients. Navigate yourself to my work page to see some of my previous works and learn more about the process I took. I am constantly working on new exciting projects with amazing clients and so I will continue to update my portfolio with more case studies and examples of my work. My typical stack has been: React (Next.JS specifically), TailwindCSS, GraphQL and PostgreSQL - but regularly try out new frameworks, libraries and technologies to keep up to date with the latest trends in development. If you like any of my projects and want to discuss an idea or a problem you need to be solved feel free to drop me a line and we can chat about it.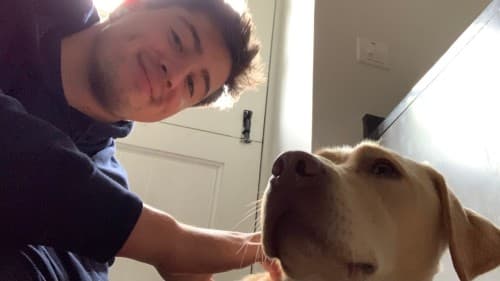 Isla our year-and-a-half-old puppy.
I occasionally take on freelance opportunities.
Have an exciting project where you need some help? Send me over a message, and let's chat.